All Activities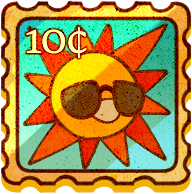 The Dawn Is Your Enemy
Ends: 7 July 2021, 23:59:59 CDT (1 week from now)
Details
ENEMY INFORMATION

 Location: Familiar Realm, Sunbeam City
 Stats: 25 HP, 10 DMG
 Description:  GAH!!!! These burning little sun sprites have taken over the city pools, and now they're too hot to swim in! Please eradicate them as soon as possible, before the cityfolk dry up....
Art Minimum Requirements
Full Body
Flat Colors 
Any/No Shading
Any background
Any line quality
Writing Minimum Requirements
Character Requirements 
Stat & Level Rewards
No user rewards.
1 character EXP
0 character points
1 result found.