All Activities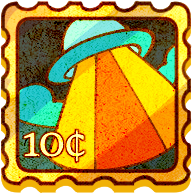 Alien Alien
Ends: 7 July 2021, 23:59:59 CDT (1 week from now)
Details
ENEMY INFORMATION

 Location: Strange Realm, Radio Tower Block
 Stats: 50 HP, 17 DMG
 Description:  The unceasing radiowaves coming off of the tower have attracted a curious visitor to the Strange Realm. Though they look laid-back and harmless, these UFO's are interfering with the tower's transmissions! 
Art Minimum Requirements
Full Body
Flat Colors 
Any/No Shading
Any background
Any line quality
Writing Minimum Requirements
Character Requirements 
Stat & Level Rewards
No user rewards.
3 character EXP
0 character points
1 result found.